Some Tips on Heavy Duty Towing
12/28/2021 Heavy Duty towing differs completely from light range towing. There are different heavy-duty guidelines for different places around the world. For e.g., Chilliwack Heavy Duty law may differ slightly from the law in Adelaide. No matter where you are, you must follow the rules and guidelines strictly and ensure a reliable and safe towing service.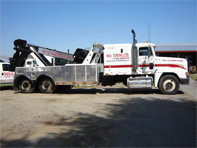 What is Heavy Duty towing?
As the name suggests, heavy-duty towing is used to tow heavy vehicles that include semi-trucks, buses, RV, tractors, heavy equipment, cranes etc. The towing of these large vehicles can be quite risky and it needs even more extra precaution compared to other types of towing. Hence, we need trained and professional experts who have been doing heavy-duty lifting for reliable and safe towing.
Tips for a Safe Towing
We may have seen towing failures video on youtube once or more. Many towing failures have gone viral from time to time. Hence, we are sharing some tips with you to ensure you don't ever appear in one of those videos. So, below are some tips and guides for you:
Check gross vehicle weight rating (GVWR). This is related to the towing capacity of the tow truck.
Trucks having a longer wheelbase are more reliable than shorter wheelbase trucks.
Diesel Powered engines offer more torque power. Hence, prefer them compared to others.
Check the weight distribution before loading a vehicle. Imbalanced loading can cause serious problems.
If you need any heavy duty towing assistance around Chilliwack and nearby areas, contact MSA towing service
About This Author
MSA Towing Provides Heavy duty towing, Emergency roadside assistance in Abbotsford. Our service covers Chilliwack and Aldergrove areas. we offer out of town heavy duty towing and light duty towing services to the following areas, Chilliwack, Aldergrove. Surrey, Vancouver, Mission, Burnaby, Langley, …